Ram claims top towing crown with new Heavy Duty pickup
|
Do I hear 37,200?! Ram has reclaimed the top heavy-duty truck towing crown with the 2021 Heavy Duty pickup.
The updated 6.7-liter Cummins turbodiesel-powered truck can now pull a 37,100-pound gooseneck trailer in its top towing configuration, which beats the F-450 Super Duty's 37,000-pound record set for the 2020 model year.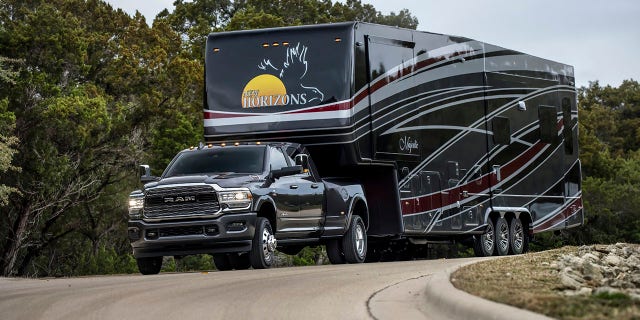 Ram increased the inline-six-cylinder engine's torque to a class-leading 1,075 ft-lbs and strengthened the chassis, which includes integrated hitch hardware, to improve the tow rating by a ton compared to the outgoing truck's 35,100-pound limit.
For those of you keeping score, the Chevrolet Silverado HD has now fallen to third place at 36,000 pounds, but Chevy has argued that the F-450 is a Class 4 truck, while the Silverado and Ram compete in Class 3 against the F-350, which maxes out at 35,750.
SEE IT: STRETCHED RAM PICKUP WITH 16-FOOT BED IS A VERY LONG HAULER
Regardless of who's in the right about that, while the 2021 Ram Heavy Duty also increased its conventional tow rating from 19,780 pounds to 23,000 pounds, it still trails the F-450 in this category, with the Ford rated at 24,400 pounds.
CLICK HERE TO GET THE FOX NEWS APP